"Technoscare" is the sixteenth Season 2 episode of Harvey Beaks.
Synopsis
When Technobear decides he's too cool for trick-or-treating, he's visited by three Halloween spirits that remind him of the true meaning of the holiday.
Plot
TBA
Characters
Major Characters
Supporting Characters
Minor Characters
Mentioned Only
Trivia
This is the third Halloween episode. The first ones were "Le Corn Maze... of DOOM!" and "Harvey Isn't Scary".
In the title card, the episode's title is written in white within a red splotch.
This is the second time the Blargus appears. However, unlike his debut from "Harvey Isn't Scary", he is a real goblin spirit.
The following costumes worn are:

Harvey Beaks - Vampire firefighter (present) / Goblin bunny (past)
Michelle Beaks - Dalmatian
Fee - Prisoner
Foo - Mermaid
Dade - Villager
Piri Piri - Amalgamation of hopes and dreams of every child
Claire - Magical girl (based on Sakura Kinomoto from Cardcaptor Sakura) (present) / Witch (past)
Kratz - Robot (mistaken for a washing machine due to the dirty sock on his head)
Rooter - Luchador
Technobear - T.P. toga dancer (present) / Disco ball (past)
The Inspiration - tall glass of water
Cultural References
Three spirits visiting the story's main character, and telling him about the true meaning of holiday is based on the book "A Christmas Carol."
Gallery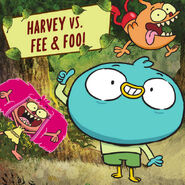 Click here to view the gallery.
References