The Spirit of Wetbark Lake is the one responsible for keeping the lake safe and enjoyable to other people. He banned Harvey, Fee, and Foo from it due to causing disruptions. He has a button by his home that says to push it for help, and Foo annoys him about it.
Trivia
The Spirit of Wetbark Lake's voice actor, Dwight Schultz, also voiced Mung Daal from Chowder, C.H. Greenblatt's previous series.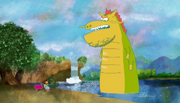 He was originally colored light greenish with hints of reddish-orange in the pilot. However, in the series, his skin color changed to light blue.