"Ira Fingerman" is a sentient rock shaped like a finger located in Bigbark Woods. Its first appearance is in the episode "The Finger". 
Appearances
Bio
Mistaken as a "secret girlfriend" of Foo by Fee, Ira is a sentient finger-shaped rock discovered by Foo. It understands English, and was given the name "Ira Fingerman" by Harvey. The finger saves Harvey and friends in a major rainstorm as they tried to discover what was underneath it.
Trivia
There is a person who worked on the development of Mattel's Netflix or series, Ever After High, named Ira Singerman. However, it remains unclear weather or not the name Harvey chose for the giant stone finger is a direct parody off of the person, or if it is merely a very strange coincidence.
Gallery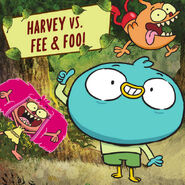 Click here to view the gallery.