Harvey's First Scar
◄ Season 1, Episode 9►
Transcript
Production Info
Production Code
107A
Written by
Shane Houghton
Zeus Cervas
Colin Heck
Directed by
Derek Evanick
Diana Lafyatis
Storyboarded by
Zeus Cervas
Colin Heck
Broadcast Info
Airdate
April 26, 2015
Ratings
1.21 million
"Harvey's First Scar" is the ninth episode of the first season of Harvey Beaks. It premiered on April 26, 2015 along with "A Tail of Les Squirrels".
Synopsis
Harvey is envious of Fee and Foo's scars, so he asks his friends to give him a scar of his own.
Plot
Fee and Foo enter the restroom at the Beaks' house with Harvey applying lotion all over his body. Then Harvey sees that Fee and Foo both have scars. He thinks that they are pretty cool and they have scars, but he is also cool and doesn't have any. He then asks the two to give him a scar. Only, he doesn't realize that he will need to get hurt in order to get one. Fee and Foo do various things, such as throw bowling balls at him, but he keeps putting on protective layers to avoid getting hurt. When he saw what appears to be Fee and Foo playing outside, he went out to talk to them into stop trying to give him a scar. But it is revealed that they are Claire and Kratz disguised as the twins just to lure Harvey out of the house. Harvey pretended that he gave himself a scar by having his right eye between two triangular sheets of fruit snack until it peeled off from his nervous sweating. Eventually he puts on a suit of pillows. He got Dade to bring Fee and Foo in without anything harmful. As Harvey tried to talk Fee and Foo into forgetting about giving him a scar, the twins were not convinced as they promised to give Harvey one. Later, Fee and Foo attempt to throw Harvey into a plant that grinds up everything that is thrown into it. However, when he falls into it, but is unharmed, because the pillows clogged the plant. Eventally he falls into it. The twins are sad that Harvey got "shredded", but Harvey is still unharmed when he gets out. Then, he takes off the pillows, which chafed his thighs, thus giving him a scar. While Harvey is trying to show off his scars to others, they, including Kratz, are only curious about Harvey strutting around in his underwear instead.
Characters
Major Characters
Minor Characters
Trivia
Harvey has a birth mark in the shape of a mermaid.
They are the few times it looks blood in the series.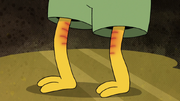 Goofs
Gallery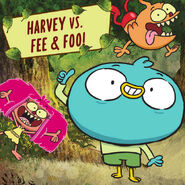 Click here to view the gallery.
References