Not to be confused with Comet Night!
Comet Night?
◄ Season 1, Episode 15 ►
Transcript
Production Info
Production Code
104A
Written by
Kevin A. Kramer
Zeus Cervas
Colin Heck
Directed by
Derek Evanick
Diana Lafyatis
Storyboarded by
Zeus Cervas
Colin Heck
Broadcast Info
Airdate
May 10, 2015
Ratings
1.02 million
"Comet Night?" is the fifteenth episode of the first season of Harvey Beaks.
Synopsis
Harvey tries to have a night of bonding with his father, but everything goes horribly wrong.
Plot
TBA
Characters
Major Characters
Supporting Characters
Minor Characters
Mentioned Only
Trivia
This episode shares the same title with another in this series, only with an exclamation point.

Both these episodes take place during the same time though while this one is focused on Harvey and Irving, the other one revolves around Miriam and Fee. 

This is the first episode to feature Harvey and Foo without Fee.
Harvey is still banned from going into Wetbark Lake since "Pe-Choo!"
It is revealed that Foo can understand and translate concussion-induced nonsensical speech.
After getting him across the chasm, Harvey and Foo are unable to lift Irving, despite the two of them previously carrying him there on their own in the first place.
This is the first time Irving is seen not carrying Egg.
Gallery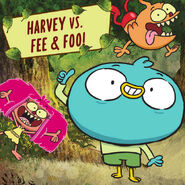 Click here to view the gallery.
Credits
Comet Night?, and Comet Night! (credits)
References