Certified Babysitter
◄ Season 1, Episode 20 ►
Transcript
Production Info
Production Code
110B
Written by
Katie Mattila
Monica Ray
Nicholas Sumida
Directed by
Derek Evanick
Diana Lafyatis
Storyboarded by
Monica Ray
Nicholas Sumida
Broadcast Info
Airdate
May 24, 2015
Ratings
0.918 million
"Certified Babysitter" is the twentieth episode of the first season of Harvey Beaks.
Synopsis
Harvey is determined to prove to his parents that he can babysit the egg on his own.
Plot
Harvey and the other kids are doing some babysitting training. Harvey passes and is rewarded with a badge. Meanwhile, Harvey's parents are going out for the night and he wants to babysit the egg. But much to his dismay, his parents call over Jeremy to babysit him. Harvey tries to prove that he is old enough to take care of the egg himself. However, the egg gets into a bunch of crazy accidents. Eventually, it starts rolling out of the house! The gang chases it and ends up at a spa. The egg eventually ends up in a spa that is only for ages 18+. Harvey tries to cross it, but his good nature prevents him from doing so. He decides to ask Jeremy to help him get the egg. Jeremy explains that everyone needs to ask for help sometimes, even adults. The episode ends with Harvey's parents staring at their burning house, shocked.
Characters
Major Characters
Supporting Characters
Minor Characters
Music
Trivia
This is Egg and Jeremy's first major role.
It is revealed that Jeremy is lactose intolerant.
It is revealed that Dade plays the clarinet.
It is revealed that Harvey would never break any rules.
For the first time, Foo and Fee play small parts in this episode.
This is the second time Harvey's house gets flooded and set on fire. The first was from "Comet Night?" and "Comet Night!".
Harvey is revealed to be 9 years old in this episode.
This is the first episode where Doctor Roberts appears without Princess.
When Harvey is chasing an unborn Michelle through the hot springs, Kratz can be seen.
Cultural References
The logo of the show Jeremy and Harvey watch is stylistically similar to that of the 1990s book series, The Babysitters Club.
Goofs
It was daytime when Irving tells Harvey that he and Miriam were going to a "swamp party". However, when Irving and Miriam were ready to leave, it's nighttime.
When Jeremy when outside to take out the trash, the door is open. When Jeremy was checking to see if the trash was recyclable, the door is closed. Then the door was open again, ready to be closed by Harvey.
Harvey uses a spray bottle to spray water at Jeremy. But when Harvey and Jeremy say "Don't worry. I'm coming." after seeing Egg rolling away, the spray bottle disappears.
Gallery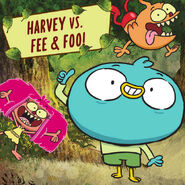 Click here to view the gallery.
References