Barkball
◄ Season 1, Episode 36 ►
Transcript
Production Info
Production Code
117B
Written by
Carson Montgomery
Charlie Gavin
Chris Houghton
Directed by
Derek Evanick
Diana Lafyatis
Chris Houghton
Storyboarded by
Charlie Gavin
Chris Houghton
Broadcast Info
Airdate
November 20, 2015
Ratings
0.94 million
"Barkball" is the thirty-sixth episode of the first season of Harvey Beaks.
Synopsis
When a Little League coach rejects Harvey and his friends, they become determined to prove him wrong.
Plot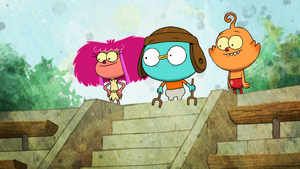 Harvey visits Dinkly Fields to meet his friends for practice. Coach Kip Dinkly, Jr., shows up only to immediately reject all of them since he thinks they are losers. Disappointed about this, Harvey challenges Coach Dinkly to a game. After Harvey and his friends try to practice Barkball and failed, Harvey noticed Fee and Foo are excellent players. So he allowed the twins to coach them. Then Harvey and all the kids return to Dinkly Field the next morning to play against Coach Dinkly. As they play, Harvey ends up accidentally hitting his teammates in the shins with his two Barkball sticks. Because Harvey is losing his fellow players, Coach Dinkly took the opportunity to trick the twins into getting kick off the field for breaking the rules. With Harvey left on his own, he squares off against Coach Dinkly alone. However, in a strange yet sort of predictable turn of events, Harvey unintentionally smacked Coach Dinkly in the shins leaving him painfully paralyzed. With seconds on the timer, Harvey's friends cheered for him as he scores higher than Dinkly. After the kids won, Harvey made Coach Dinkly realize that there is room for losers on the Dinkly Field.
Characters
Major Characters
Supporting Characters
Minor Characters
Music
Gallery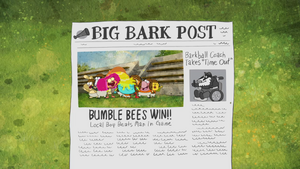 Trivia
It is revealed that Moff's last name is Williamson.
This episode is the last to be aired in 2015.
References