"Bad Seeds" is the flash-animated pilot episode of what would become Harvey Beaks. Later, it is reanimated in a TV show episode in digital ink and paint animation and re-titled as "Pe-Choo!".
Synopsis
At Wetbark Lake, Harvey tries to get himself banned from Wetbark Lake so he can go "Pe-Choo" with Fee and Foo.
Plot
The pilot begins with Fee and Foo going over to meet Harvey at his house, and inviting him over to Wetbark Lake. In order to have an awesome time at the lake, Harvey has to do the one thing that's the hardest for him–get in really big trouble. In this episode, Harvey notices when he goes into the lake with Fee and Foo, he does not get to go flying in the air with his friends. Harvey also finds out that Fee and Foo are banned from the lake. Harvey wants to learn how to be trouble so he can banned himself from the lake. And in the end, Harvey gets banned from the lake with the help of his friends.
Characters
Major Characters
Supporting Characters
Minor Characters
Trivia
Gallery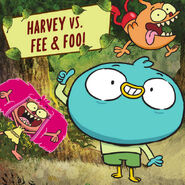 Click here to view the gallery.
References